North Queensferry Boat Club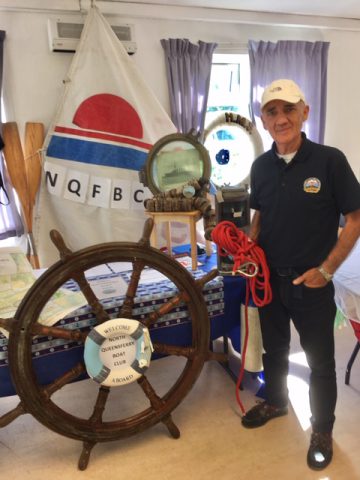 The photo above features the late Alan Stuart who, at the time of his passing, held the role of Secretary to the North Queensferry Boat Club. Alan worked tirelessly on behalf of the Club in an effort to enhance the well being of the Club Membership. Alan had a vision for the future of the Club, which unfortunately , he was unable to bring to fruition. RIP Alan
North Queensferry Boat Club is primarily aimed at any individual who wishes to pursue an interest in boating and would like to share that desire, along with other like minded people, here at the West Bay, North Queensferry.
Quintessentially the Club can be considered as Multi-Functional within a Boating Environment. The club is unique in itself with an all round approach to boating and sailing by its members, along with the facility to launch and retrieve boats using our Dumper/HIAB facility.
Facilities within our workshop at the club, will allow members to carry out essential maintenance and repairs to their vessels. Please Note that the workshop now contains a Band Saw and a Disc Sander which will allow Members to enhance their boats to a New Level
Being a Club Member will also ensure you have the best of help and advice from within the Membership
Collectively, we are very much a club that requires a fair degree of voluntary help from within the Membership and would look to any member joining the club, to be able to assist/contribute in some useful manner.